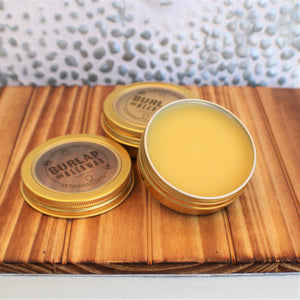 Burlap & Beeswax
Beeswax Beard Balm
Sale price Price $10.00 Regular price Unit price / per
All natural beeswax is the main ingredient in this natural beard balm designed to condition the beard and skin.  This balm will leave your beard feeling smooth and will not cause break outs like many beard conditioners as beeswax is porous and will not clog your skin's pores.
Beeswax is a nutrient-rich substance secreted by bees in order to make honeycomb. Unfiltered beeswax contains over 300 micronutrients. Beeswax will soften your skin and create a long-lasting protective coating on your skin without clogging pores.  In addition to being a natural moisturizer, beeswax is also anti-inflammatory, antiseptic, antibacterial and a germicidal antioxidant helping to heal many skin conditions. 
2 fl oz
Directions: Rub a small amount into hands and apply evenly over beard.
Unscented
Ingredients: Beeswax,  Theobroma Cacao (Cocoa) Seed Butter, Tocopherol (Vitamin E Oil), Olea Europaea (Olive) Fruit Oil
Sage
Ingredients: Beeswax,  Theobroma Cacao (Cocoa) Seed Butter, Tocopherol (Vitamin E Oil), Olea Europaea (Olive) Fruit Oil, Salvia (Sage) Officinalis Oil

Woodsman
Ingredients: Beeswax,  Theobroma Cacao (Cocoa) Seed Butter, Tocopherol (Vitamin E Oil), Olea Europaea (Olive) Fruit Oil, Pinus Sylvestris (Pine) Oil, Cananga Odorata (Ylang Ylang) Oil, Cedrus Atlantica (Cedar) Oil